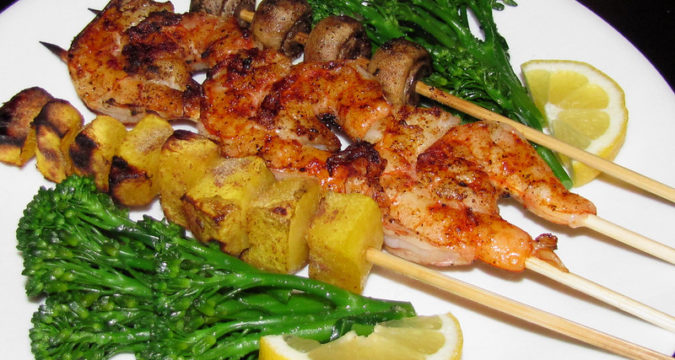 Making grilled shrimp kabobs is a great way to add vegetables and other variety to your grilled shrimp, especially if you are already using skewers to keep them from falling through the grates. They also make for a great appetizer recipe for entertaining. We've collected and put together a few recipes for grilled shrimp kabobs that you and your family and friends will be sure to enjoy.
Making the kabobs is very easy and simple. You will simply need skewers, which are available in both metal and wooden varieties, and the different vegetables and shrimp that you want to include. Metal skewers have some advantages as they can be reused easily and are somewhat easier to keep the food on them. Wooden skewers will also need soaked for about an hour in water before grilling to prevent them from cracking as well as catching on fire on a hot grill.  To prepare the food, simply alternate between shrimp and vegetables on the kabobs. You'll want to grill them just as you would grill shrimp on its own on a skewer, which we have instructions on in our article on ways to grill shrimp
The first thing to consider is which vegetables you will grill. Here are some popular choices: mushrooms, zucchini, squash, green peppers, red peppers, white onions, red onions, tomatoes, carrots, potatoes, and others. Some people even enjoy grilling fruit with their shrimp.
Below are some of our favorite recipes:
Pineapple & Pepper Shrimp
You will need:
1 can of cubed pineapple, drained
1 green pepper, cut into skewer sized cubes/sections
2 pounds of shrimp
1 medium onion, cut into skewer sized cubes
For the Marinade:
1/4 cup soy sauce
1 tsp minced garlic
2 tsp brown sugar
1 tsp ginger
1 tbsp lemon juice
Black pepper to taste
Directions: Alternate between peppers, pineapple, and shrimp on the kabobs. In a small bowl or plastic bag, mix the marinade ingredients together. Let the kabobs marinate in the sauce for no more than 30 minutes, then discard the marinade and grill shrimp on each side for about 2-3 minutes or until fully cooked. (Cooking times will depend on the size of the shrimp – you will no the shrimp are done when they lose their translucent color).