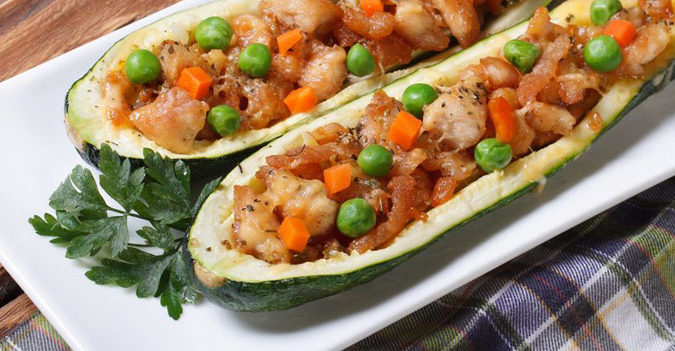 Zucchini boats can be served during snack time or even for a light meal. The total preparation time is 20 minutes, and the cooking time is 25 minutes
Ingredients
The ingredients include 2 zucchinis, 1 jalapeno pepper, 1 slice of white bread, 1/4 cup minced onion, 1/4 cup chopped tomato, 1/4 cup of chopped bacon, 6 tablespoons of shredded cheddar cheese, 3 tablespoons of diced green chile peppers, 1 tablespoon of minced black olives, 1 pinch dried basil, salt, and ground black pepper. The amount of ingredients is enough for four servings.
Preparation
Prepare the grill for indirect heat. While waiting for it to heat up, put the zucchinis in a pot of water, and boil them for 5 minutes. Then, drain the water, and wait for the zucchinis to cool. Cut them into two, lengthwise. Remove the pulp, and only leave around 1/4 inch of flesh from the skin. Chop the removed pulp.
Tear the slice of bread into small pieces, mince the jalapeno pepper and onion, chop the tomato, and dice the green chile peppers. Then, mix them with the chopped zucchini pulp as well as the olives, bacon bits and cheddar cheese. Season the mixture with the basil, salt and ground pepper.
Place the mixture on the halved zucchinis. Seal the stuffed zucchinis with aluminum foil.
Cooking
After properly sealing the stuffed zucchinis, place each of them in the preheated grill. Cook for around 20 minutes.