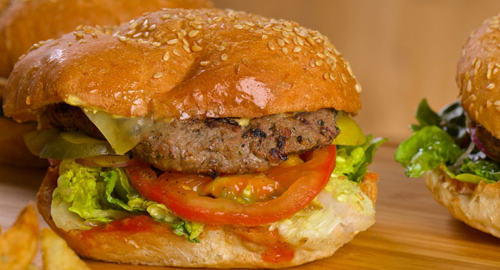 This recipe combines the spicy flavor of burgers with the sweetness of the mango salsa. The total preparation time is only 20 minutes.
Ingredients
For the mango salsa, the ingredients needed are 1 mango, 1 cup of chopped green sweet pepper, 1/4 cup of chopped red sweet pepper, 1/4 cup of chopped onion, 1/4 cup of apple jelly, 1 tablespoon of lime juice, 1 tablespoon of cooking oil, 1 teaspoon of grated ginger, and salt.
For the burger, the ingredients include 4 hamburger buns, 1 pound of lean ground beef, 1 egg, 1 cup shredded cheese, 1/3 cup of jerk sauce, and 1/4 cup of bread crumbs.
Preparation
Peel the mango, remove the seed, and chop. Also, chop the green sweet pepper, red sweet pepper and onion.
Pour the cooking oil in a saucepan, and put over medium heat. Add the green sweet pepper, red sweet pepper, onion and ginger. Stir well, and cook for about 3 minutes. Then, add the mango, apply jelly and lime juice. Stir well until the jelly is melted. Season the salsa with salt, and set aside for later.
Put the lightly beaten egg, 1/4 cup of the jerk sauce, bread crumbs and ground beef in a large bowl. Mix the ingredients well. Afterwards, shape the thick mixture into four patties. Each patty should ideally be 1/2 inch thick.
If you are using a charcoal grill, put the patties on the grate over medium coals. Cook them for around 10 minutes. While grilling, brush the patties with the remaining jerk sauce to add flavor. If you are using a gas grill, preheat it and then reduce to medium heat. Cook the patties for around 10 minutes. The hamburger buns may also be placed in the grill to toast them.
Sprinkle the shredded cheese over the hamburger buns, and put the patties in place. Put in some of the salsa in the burger, and place the remaining salsa on a plate.