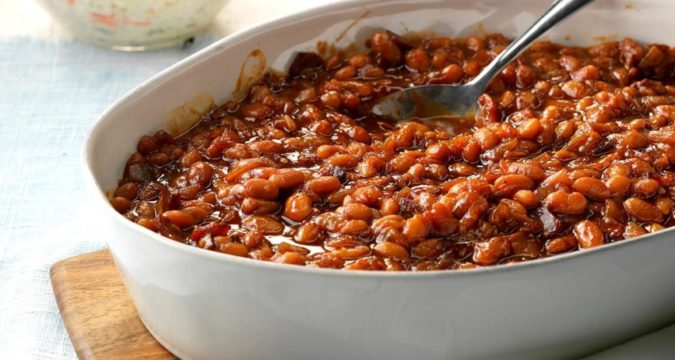 Ingredients
1 pound dried great northern beans
1/2 pound thick-sliced bacon strips, chopped
2 large onions, chopped
3 garlic cloves, minced
2 cups ketchup
1-1/2 cups packed dark brown sugar
1/3 cup molasses
1/3 cup maple syrup
1/4 cup Worcestershire sauce
1/2 teaspoon salt
1/4 teaspoon coarsely ground pepper
Directions
Rinse beans with cold water.
Place beans in a Dutch oven. Add enough water to cover them plus 2 inches.
Bring to a boil and boil for 2 minutes.
Remove from the heat, cover and let stand for 1 hour or until beans are softened.
Drain and rinse beans, discarding the liquid.
Return beans to Dutch oven.
Add 6 cups water and bring to a boil.
Reduce heat, cover and simmer for 1 hour or until beans are almost tender.
In a large skillet, cook bacon over medium heat until crisp. Remove and place on paper towels to drain some of the grease. Save 2 tablespoons of drippings.
Saute onions in drippings until tender.
Add garlic; cook 1 minute longer.
Stir in the ketchup, brown sugar, molasses, syrup, Worcestershire sauce, salt and pepper.
Drain beans, reserving cooking liquid
Place in an ungreased 3 quart baking dish.
Stir in onion mixture and bacon.
Cover and bake at 300° for 2-1/2 hours or until beans are tender and reach desired consistency, stirring every 30 minutes
Add reserved cooking liquid as needed.