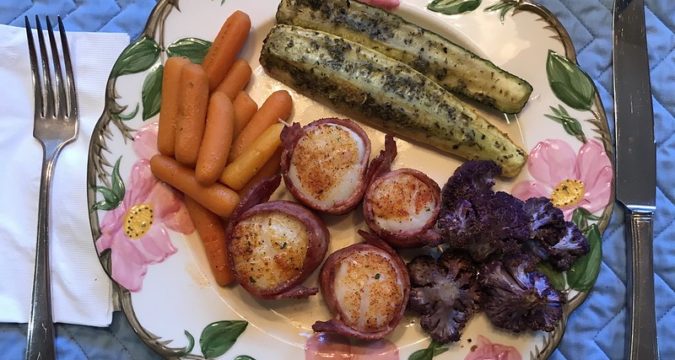 This recipe for scallops wrapped in bacon is sure to be a crowd pleaser and makes for an excellent accompaniment to any meal. While the results are impressive, learning how to make bacon wrapped scallops is actually pretty easy and simple.
Scallops can be made both in the oven or on a barbecue grill. Perhaps the most confusing thing for most is choosing what types of scallops to buy. There are many different names, such as "sea scallops" or "bay scallops". There is also the question of whether you should use frozen or fresh scallops.
In general, bay scallops are typically smaller than sea scallops. Diver scallops do not necessarily refer to the size, but the method of the way the scallops have been collected, which many believe is the best way as typically a diver will go and hand select the scallops instead of using a large net and catching whatever happens to get scooped up.
Buying frozen scallops versus fresh scallops is purely a personal decision and will depend mostly on the availability in your area. Many times frozen scallops can be just as good or better than fresh scallops, especially if you are not in a region where scallops are nearby and readily available. If using frozen scallops, you'll want to defrost them before grilling, which can be done by running them under water or keeping them in the refrigerator until they defrost. You could microwave them, but then you risk the chance of them becoming half cooked and not tasting as good as you'd like.
Now that you've gotten the basics down for choosing the scallops, here's an easy recipe for bacon wrapped scallops you'll be sure to enjoy. It can be served as a main dish or also makes an excellent appetizer recipe for before you serve the main course.
You Will Need:
24 Scallops
12 slices of bacon
Skewers (If using wood skewers, make sure you soak them in water first!)
Lemon juice from 1 lemon
4 tablespoons melted Butter
1 teaspoon Minced Garlic
Salt & Pepper
Directions: Light your grill for a medium high heat so it will be nice and hot. Carefully wrap each individual scallop with one piece of bacon and thread through with skewers so that the bacon will stay in place. Depending on the size of the scallops and the bacon, you should be able to make 2 out of each slice of bacon. Some cooks will first bake the bacon or use pre-cooked varieties which is fine to do and will cut down on grilling time, but it is not absolutely necessary.
Combine the melted butter, lemon juice, and minced garlic. Lightly brush the sauce onto the skewers. Season with salt and pepper to taste. When the grill is nice and hot, place each skewer onto the grate and let cook for about a minute or two and then rotate. The skewers will cook very quickly and they should be done in just 6-8 minutes depending on the heat of the grill. When done, add more pepper if desired and serve.
Oven Directions: Place skewers on a parchment paper lined pan (this will help absorb the drippings from the bacon) and broil 3 minutes each side or until bacon is cooked.
There are many other different variations of this basic recipe, most of which include using specialty bacon or flavoring with different seasonings. Whether you follow this one or experiment with your own seasoning combinations, you'll be sure to enjoy the scallops wrapped in bacon.