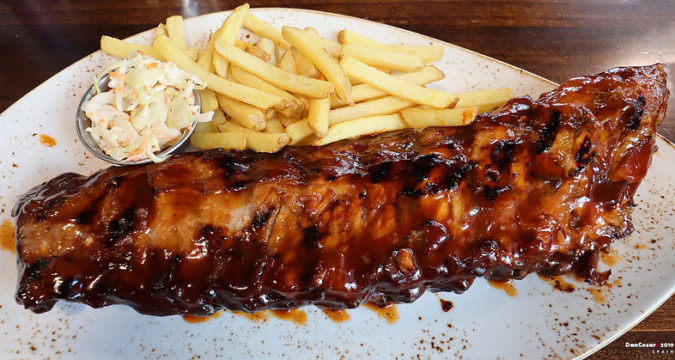 The first question you may ask is what is the difference between baby back ribs and spare ribs? Baby back are shorter than spareribs. A rack of baby back ribs averages 10 to 13 curved ribs that are 3 to 6 inches long. Baby back ribs are very tender and leaner than spareribs. They usually cost more than spare ribs. This recipe will work for both types of ribs.
There are many different baby back ribs recipes out there, so we decided to include a few of our favorite variations so you can choose what you like the best depending on your personal tastes and preferences. Whether you decide to make dry ribs or wet ribs dripping in your favorite sauce, these recipes are very easy to make and give you some new flavors and ideas in addition to the traditional barbecue sauce flavors.
Cooking pork baby back ribs always requires a bit of patience if you want to cook them to perfection and make them tender, juicy, and "fall off the bone" as many like them. They can be made either by grilling or cooking them in the oven, so be sure after you choose a recipe below that you head over our grilling baby back ribs tips if cooking on a grill and if in the oven our oven rib cooking tips.
Honey Mustard Baby Back Ribs
You Will Need:
2 full Racks of Ribs, membranes removed
For the Dry Rib Rub:
1/3 cup paprika
3 tablespoons dry mustard
3 tablespoons onion powder
3 tablespoons garlic powder (Can also substitute freshly minced garlic)
2 tablespoons ground basil
1 tablespoon chili powder
1 tablespoon black pepper
1 tablespoon salt
1 tablespoon brown sugar
For the Sauce:
1 cup Dijon mustard
1/2 cup honey
1 cup dry white wine
1 teaspoon cinnamon
Directions: Combine all of the dry rib rub ingredients above together and generously rub into the pork baby back ribs. Really rub it in – don't be shy! Wrap the ribs in plastic wrap and allow to marinate in the refrigerator for several hours, overnight preferred.
Cook the ribs either in the oven wrapped in foil at 225 degrees or over indirect heat on the grill for around 2 hours, checking often. Mix the ingredients for the honey mustard sauce and about 15-20 minutes before the ribs are done baste generously onto the ribs while cooking, taking care to make sure it does not burn. You can alternatively serve the ribs dry and serve the sauce on the side for those who prefer dry ribs over wet ones.