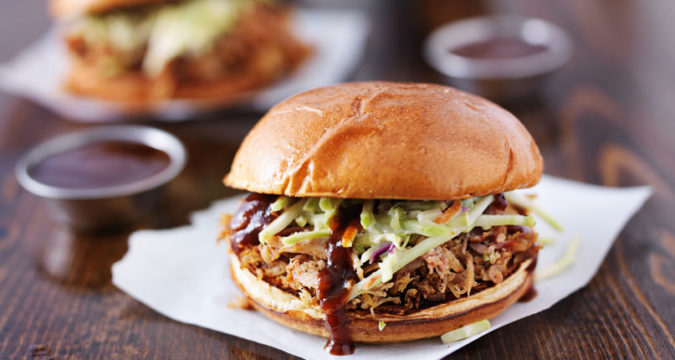 Pulled pork is another barbecue classic that many people enjoy. There are many coveted pulled pork recipes out there for making these classic sandwiches. Traditionally it is made using a pork shoulder roast, although some may prepare it using pork tenderloin. Tenderloin is a leaner cut of meat.
Pulled pork can be made on the grill but you can also make it in the oven. It is much easier in the oven, but if you love to grill as much as we do, you might enjoy cooking it as much as eating it. Below we'll share the instructions to make it both ways.
You Will Need:
One 4 lb. pork shoulder roast. Simply double the recipe if you want to make more.
Dry Rub Recipe:
1 tablespoon mild paprika
2 teaspoons light brown sugar
1 teaspoon celery seed
1 1/2 teaspoons hot paprika
1/2 teaspoon garlic salt
1/2 teaspoon dry mustard
1/2 teaspoon ground black pepper
1/2 teaspoon onion powder
1/4 teaspoon salt
Sauce:
1 1/2 cups cider vinegar
1/4 cup brown sugar
2 tablespoons crushed red pepper flakes
1/2 cup ketchup
1 tsp cayenne pepper
You can alternatively use other dry rib rubs or barbecue sauces if you prefer. There is nothing wrong with using prepackaged ones. Making them yourself just gives you more room to experiment and make it the way you like it.
1. Prepare the Meat: Mix all of the ingredients together for the dry rub. Really rub that mixture onto the meat. Wrap with foil and allow to marinade overnight in the refrigerator or for a minimum of 6-8 hours.
2. Grill Directions: Set your grill to cook around 225 degrees. With a gas grill this is easier. With a charcoal grill you will want about 45-50 briquettes to start. Add more periodically to keep the temperature constant. We will be cooking with indirect heat, so once your gas grill reaches 225 degrees you will want to only keep one burner going. With charcoal, you will want to keep the briquettes on one side of the grill, if possible. You can also add soaked wood chips on the top or to the side. Put the roast in an aluminum roast pan and set on the grate, away from the direct heat. You'll want to check the roast after about an hour and then turn it over every 35-45 minutes. If using a charcoal grill, you will want to check and make sure the heat is holding and add briquettes as necessary, most likely 3-4 times. Cook until the roast has an internal temperature of 185 degrees.
3. Oven directions: (If grilling, skip this step) Preheat the oven to 225 degrees and place roast in pan covered with foil and about a 1/4 inch of water in the bottom of the pan to prevent drying. Bake for 6-8 hours, checking every 1-2 hour and turning if necessary. Pork is finished when it has reached an internal temperature of 185 degrees.
4. Serve It: Serving the pulled pork is very easy. You will simply need a couple of forks and should be able to easily shred it and pull it off into small pieces. Mix the ingredients of the barbecue sauce and pour it over the pulled pork and toss until all pieces are coated. Using a large foil pan for pulling the pork makes it nice and easy, especially for transporting. Great on sandwiches or by itself.