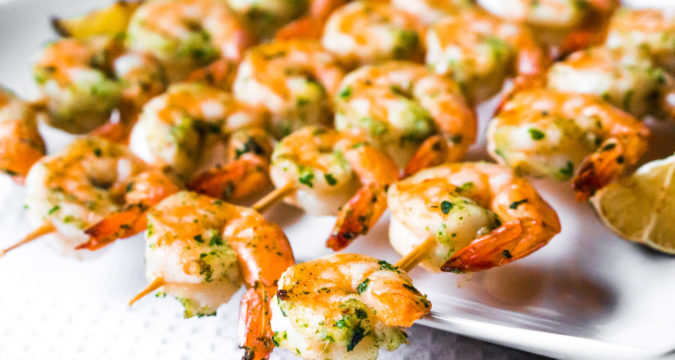 Marinated grilled shrimp is a simple recipe that can be quickly done on the grill. It is perfect for both family meals as well as parties, especially if you are already in a rush. The total preparation time for the recipe is 15 minutes, while the grilling time is only 6 minutes. When shopping for the ingredients, remember to get skewers for the shrimps.
Ingredients
• 2 pounds of fresh and peeled shrimps
• 3 cloves of minced garlic
• 1/3 cup of olive oil
• 1/4 cup of tomato sauce
• tablespoons of red wine vinegar
• 2 tablespoons of chopped basil
• 1/2 teaspoon of salt
• 1/4 teaspoon of cayenne pepper.
This recipe will make six servings.
Preparation
In a bowl, put together the minced garlic, olive oil, tomato sauce, red wine vinegar, chopped basil, salt and cayenne pepper. The marinade can also be used as a sauce for the skewers afterwards. Simply set aside some of the marinade for later.
After mixing the ingredients well, add the peeled shrimps. The combination of different ingredients in the marinade gives the shrimps a rich flavor. Stir the marinade in order to evenly coat the shrimps. Leave the shrimps to marinade for 30 minutes to 1 hour inside the refrigerator.
Cooking
Preheat the grill for medium heat, and lightly oil the grill grate. Then, put the shrimps onto the skewers. To keep the shrimps from falling from the sticks, pierce through it near the head and also near the tail.
Once all the shrimps are threaded onto the skewers, cook them on the grill for around 2 to 3 minutes. Then, turn each of the shrimp skewers, and cook for another 2 to 3 minutes.