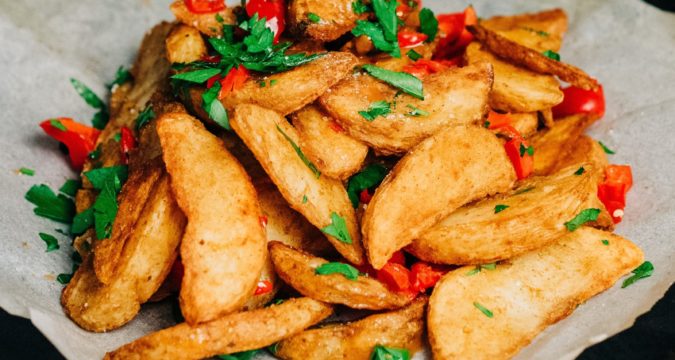 This recipe is for 6 servings
Ingredients
3 pounds baking potatoes, peeled and cut into 1 1/2-inch cubes
1/2 cup olive oil
4 garlic cloves, minced
1 1/2 teaspoons dried oregano
1 teaspoon salt
1 teaspoon ground black pepper
1/2 cup beef or chicken stock (depending on which meat will accompany the potatoes)
1/3 cup freshly squeezed lemon juice
3 tablespoons chopped fresh oregano
Preparation
Preheat your grill on high heat about 15 minutes with the lid closed until the temperature reaches about 350º F.
Cut each potato lengthwise into 8 pieces. You may leaving the peeling on or remove it.
Place into a bowl with the lemon juice and let marinate for at least 30 minutes before adding other ingredients.
Mix the olive oil, minced garlic, oregano, salt and pepper in a different bowl.
Pour the olive oil, garlic and spices over the potatoes and lemon juice.
Mix carefully so as to not break the potatoes.
Wrap your potato slices covered in the juice and spices in groups of 4 or 6 in two layers of aluminum foil to prevent leaks or burning.
Wrap the slices so that they lay flat side by side.
You can also bake them in a covered pan.
Cook for about 30 minutes or until soft, but not mushy.