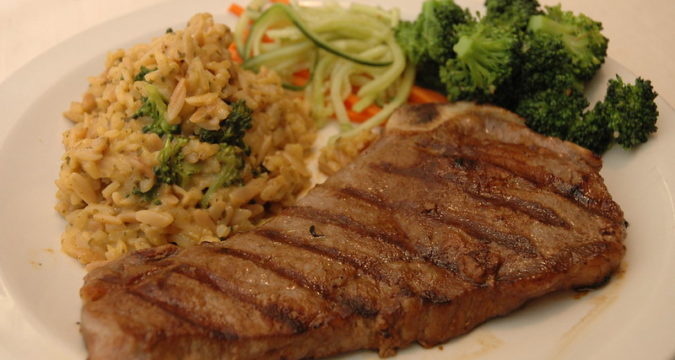 These marinated steak recipes are for anyone looking to add a little variety or maybe just a little extra kick to their favorite steak. While for a really good juicy steak you only need some salt and pepper, all of these can bring out some very unique and delicious flavors that you and those who you are cooking for will certainly enjoy.
Most of the steak marinade recipes listed here are pretty basic – pretty much just need to mix the ingredients and then let the steak marinate in it for 6-8 hours or overnight if possible unless otherwise noted. Make sure before grilling that you wipe off any extra marinade from the steak – if it drips down on the grill you may have a lot more flare ups than usual! Our gas grilling steak tips will help you make sure you cook the perfect marinated steak!
A secret to easy marinating is to use a large plastic zipper bag to mix the ingredients and then place the steaks in the bag. Sooth to let out any air and then zip tight to prevent spills.
Here are our top picks for Marinade:
Easiest Marinade in the World
1 1/2 Cups of Italian Dressing (Depending on how many steaks you are using, you may need less or more – just want enough for the steaks to have something to soak in)
Whiskey Marinade
2 tbsp minced fresh garlic
1/4 cup whiskey
Salt and Pepper to Taste
Sweet & Tangy Marinade:
1/2 cup soy sauce
1/4 cup olive oil
3 tbsp brown sugar
Freshly squeezed juice from 1 lemon
3 tbsp minced garlic
1 tbsp minced onion
1 tsp ginger
Salt and Pepper to Taste
Red Wine Marinade
1 cup dry red wine
1/3 cup Worcestershire sauce
1/2 cup olive oil
Fresh juice from 1 lemon
1 tsp minced garlic
1 tsp minced onion
1 tsp dry mustard
1/2 tsp cumin
1/2 tsp coriander
1/2 teaspoon ground black pepper
Beer Marinade:
1 cup beer
1 Tbsp Brown Sugar
Salt and Pepper to Taste
Pineapple Marinade:
3/4 cup unsweetened pineapple juice
1/2 cup soy sauce
4 tbsp minced garlic
1 tspn ground ginger
1 tbsp Worcestershire sauce
BBQ Marinade:
You can use your favorite barbecue sauce and allow the steak to marinate in it, or try this one:
1 1/4 cup ketchup
1 cup water
1/3 cup cider vinegar
1/2 cup dark brown sugar
1 tbsp onion powder
1 tbsp garlic powder
1 tbsp pepper
1 tsp cayenne
Cook all ingredients on the stove until it comes to a boil, then allow to cool. Save any extra marinade as a topping for the steaks or brush on the steak during the last 5 minutes of grilling.
The great thing about making steaks is that you can experiment with just about anything in your kitchen. Many a great steak marinades have been made "by accident" when someone may have been out of the ingredients they usually choose and use. Don't be afraid to be creative and try new combinations or your own variations of these recipes!
Do you have a favorite marinated steak recipe to share? Tell us about it in the comments below!