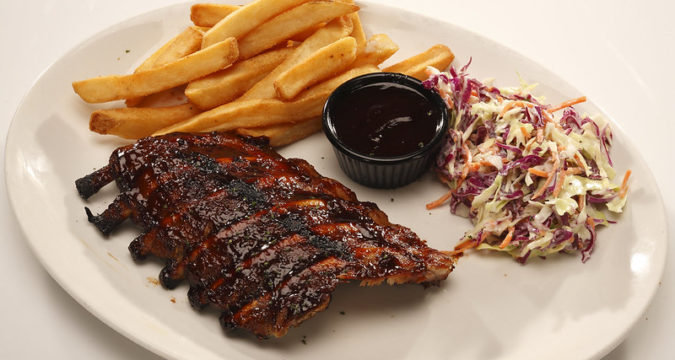 Some like it hot. If that is you, this recipe will be one of your favorites.
Cooking pork baby back ribs requires a bit of patience in order to make them "fall off the bone" tender and juicy. They can be made either by grilling them or cooking them baking them in the oven.
First you will need 2 full racks of pork baby back ribs.
For the dry rib rub use the following:
1 cup hot chili powder
2 tablespoons cayenne
2 tablespoons fresh ground pepper
4 tablespoons garlic powder
2 tablespoons packed brown sugar
2 teaspoons salt
1 teaspoon garlic powder
For the sauce use:
1 cup barbecue sauce
1 teaspoon of your favorite hot pepper sauce
Directions: Combine the seasonings for the dry rib rub and generously apply to the ribs. Wrap the spiced ribs in plastic wrap and allow them to marinate in the refrigerator for several hours or overnight. If cooking in the oven, you will want to wrap with foil and bake at 225 degrees for 2 hours, checking often. If grilling, cook over indirect heat around 225 degrees for about 2 hours. During the last 20-30 minutes of cooking, combine barbecue sauce with your favorite hot sauce and baste onto the meat, turning often to prevent burning. You can also opt to serve the sauce on the side.